I have recently organized my contacts. This may seem to be obvious, however I assume like many people when I get back from a networking event I'm too busy making appointments and organizing my business that I brush right over organizing my contacts. A friend of mine Will Tenney always says the people who we network with aren't our next clients, but our new sales-force.
I internalized this between his advice and that of Robert Bobroff at the Orlando Business Journal who emphasizes the broadcasting of leads to your network. Taking these two seasoned networkers information is not easy, after the years of networking in Orlando I have accumulated over 600 business cards that I have kept. Here are the steps I've taken to organize my contacts in order to send out leads.
.
Step 1) Categorized each card
Real Estate
Insurance
Financial Services
House Services
Education
Not For Profit
Legal
Marketing
Business Services
Misc.
2) Entered each Name and Email into outlook "Group"
3) Customized Email signature to explain the reason for the email
4) Schedule to sit  down every sunday with the Orlando Business Journal and a highlighter.
I go through highlighting every lead for new business I can find reguardless if it is applicable.
I comb the leads noting which lead would be good for which industry.
I personally enter this data into a personalized email (NO BOILERPLATE)
I find the article on the digital version online and paste it into the email.
I politely remind the contacts in small text at the bottom of the email that my business works on referrals.
5) Due to SPAM blocks I space out my emails throughout the week making sure not to send more than 100 in one day.
This is how to create lead generation for your business… Karma. Most people say when you give without expecting to get then you will achieve the true meaning, but come on… This is business and my time is precious.
.
How to take this show on the road
Most of you know that my travels rarely keep me in one place, I have been able to use this system from the road easily enough. You do not have the comforts of the newspaper in your hands, however the Orlando Business Journal like all other Business Journals have a digital version that allows you to copy and paste an article into an email.
.
Automate the system
This system is more difficult to automate with overseas help, however by paying a college student to do this you will not only automate the system… your results will probably be far better. I suggest an English major… What else are they going to do when they graduate  : )
Related posts:
Related posts brought to you by Yet Another Related Posts Plugin.
Joel Goldstein
The following is a review of Shoeboxed.com, a receipt scanning and business card scanning service.
receipt scanning and business card scanning … organized online … and it's completely painless …
To be honest keeping receipts, accounting, or any book keeping work is pretty much something I hate. I can't tell you how many times I'd be talking with the accountant, she'd ask for some receipt I wouldn't have, and I'd have to go digging for it. I was talking with my friend Merrick at PRLeap earlier this year, and he mentioned a service he was using to scan receipts and then organize the receipts online. I gave it a try and liked the service and eventually got around to writing up this review.
Here's the way Shoeboxed works: they send you two envelopes in the mail, you put your receipts in the envelopes, and you send them to Shoeboxed. About a week or so later you get an email. Your scanned receipts are now organized and available online.  They are organized/broken down by store, purchase category, and credit card. Need a copy of a receipt? No problem. Just log in, search by the amount, and you can print out a copy on the spot.
One of the best things about about Shoeboxed is that it's painless to use. I just put my receipts in the envelope every day and mail it in at the end of the month. I also have a rule in my inbox that forwards incoming receipts to a secret email address and it goes right into my account. I can also use my iphone to take a picture of a bill and email it in … in a few seconds, my receipts are organized online.
They have a few different plan options. If you are only going to use an iphone, it's free. If you want to mail in receipts, it starts at .95 and goes up to 49.95 a month. The more receipts you need to send the higher the cost. If you want the physical copies back you'll need to be at the "classic level" or .95 a month (that's what I use).
Two of the other services that they offer are business card scanning and document scanning. Include  important documents and business cards in your envelope and they are scanned and in your account. It's all pretty painless.
While this is a great service there are some questions you should be asking yourself. I contacted Shoeboxed and spoke with Sonny Byrd who was actually happy to answer these questions:
I'm sending you a lot of confidential information such as complete name, address, social security number, credit card numbers and so on. What sort of precautions are you taking to make sure my information isn't used inappropriately, or that I don't become a victim of of identity theft.
This is not actually quite accurate. Receipts by law cannot contain credit card numbers (other than the last four digits which is not a confidentiality threat) or social security numbers. Receipts do not contain addresses other than that of the vendor. Bills, invoices, and statements may have more detailed personal information, and fortunately we are completely equipped to protect our users from data loss or theft. We use the exact same SSL encryption practices as online banks and medical information providers. We are also a TrustE certified site. We protect your physical hard copy documents very intensely when they are in our possession. Our state-of-the-art operations facility is tightly held under lock and key including 24/7 video surveillance and secure key card access. All of our employees are rigorously trained and vetted including undergoing full criminal background checks. We are proud to have a long track record of keeping our users' data secure and will continue to do so.
What are some tips you can give people to make sure they are getting the most out your service?
Be sure that you keep up with your usage! It's easy to send in an envelope or two, or use Shoeboxed Mobile for a couple of business trips, then let your paper clutter go back into disarray. Just be diligent with your usage, and be sure to keep the submissions coming into your Shoeboxed account. That way you'll always be safe and sound for your taxes, bookkeeping, and in case of IRS audit.
Every company has customers who find uses for their products they never would have thought of. Have you had that happen yet, and can you share it with us.

Sure! While Shoeboxed is known for processing receipts and business cards, you can actually send virtually any paper document in to us for processing to your account. This opens us up to receiving a lot of very unusual things. We have had users sending photographs to us, mathematical papers, and have even received the occasional sock!
Thanks Sonny.
I've been a Shoeboxed customer since March and love the service. For a month I get receipt scanning, receipt organizing, business card scanning and document scanning, with almost zero extra effort. I can 100% recommend them as a service I use. You can give them a try with a free introduction. I think you'll find it's an extremely helpful service that lets you get on with the more important tasks in your life.

photo credit: Carly & Art
This post originally came from Michael Gray who is an SEO Consultant. Be sure not to miss the Thesis WordPress Theme review.

Shoeboxed.com Review – Receipt Scanning & Business Card Scanning

Related posts:
Advertisers:
Michael Gray – Graywolf's SEO Blog
Are you familiar with the following concept?  It is much easier and more cost effective to sell to existing customers than it is to acquirer a new one.  Which one would you rather have?  Sell 50 items to 5 people or 50 items to 50 people.  When you are designing and tweaking your marketing campaigns, be sure to include your current customer base and maximum their profit potential.  Here are several ways to do just that, give your customers a reason to come back for more.
Special Discount Offers
I recently purchased something from an online retailer.  When I received my package, I noticed there was a discount coupon inside that I could use on my next purchase.  I'm a sucker for coupons and many consumers are.  It is a great way to encourage and entice your customers to order again.  For best results, the coupon should have a higher discount value than what is normally offered to the general public on sites like Retailmenot.com.  The discount should also be a one-time use coupon.  This will prevent others from sharing it online and reduce the perceived value.
Make them Feel Good by Giving Back
Everyone likes to feel good and there are lots of ways you can make your customer's day.  For example, have you ever been to a bar, had a few drinks and then the bartender says "This one is on me."?  Did it not put a smile on your face and make you love that bar even more so?  Now, I'm sure the bartender doesn't actually pay for the drink, but has the authority from the owner to give out free drinks as he/she sees fit.  Customers also do not like to feel inconvenienced.  When was the last time this happened to you?  You walk into a store and your purchase comes out to .04.  You hand the cashier five ones and she gives you back 96 cents in change.  Don't you just love all that change?  Why couldn't the cashier simply say "The 4 cents is on us."?  Not only would it speed up the checkout process, but also make the customer feel valued.
Email Clubs
Many businesses, especially restaurants are starting to see the value behind email clubs.  An email club should be designed to notify customers of special promotions, pricing and discount offers.  This type of communication creates a unique connection with your clients.  Not only does it allow you to directly contact your clients on an ongoing basis, but constantly reminds them of your brand.
VIPs
The well known 80/20 business rule states that 80% of your business will come from 20% 0f your customers.  Whether this applies to you or not, you should give your most profitable clients the VIP treatment.  The customers that love you the most by spending the most money with your company are the ones that have the most to give back.  Those customers are more likely to tell others about your products or services.   There are countless ways to give your customers the VIP treatment.  Some examples could be an exclusive customer service number, special VIP discounts, higher reward points or a personal relationship manager if you sell an ongoing service.
Reward Programs
Reward / loyalty card programs seem to be very popular today.  There can be a lot of value in this type of program, but it is also the least favorite of mine for several reasons.  Most reward programs require the customer to keep track of their rewards.  They also usually require multiple visits or purchases before any type of reward kicks in.  Take JCPenney's rewards program.  You earn one point for every dollar you spend.  Once you reach 250 points, you receive a store credit.  The kicker is you must earn the 250 points within 30 days.  This is not very appealing unless you have a major purchase.  Consumers like instant gratification.  The closest you have to it, the better.
So give your loyal customers more reasons to love you.  By doing so, you increase your chance of them telling their friends about your company.

photo credit: seanmcgrath
This post originally came from Michael Gray who is an SEO Consultant. Be sure not to miss the Thesis WordPress Theme review.

Repeat Business: There's More of You to Love

Related posts:
Advertisers:
Michael Gray – Graywolf's SEO Blog
I just read a WSJ article about how some hotel chains are trying to woo people leaving negative remarks publicly about their brand.
'I Hate My Room,' The Traveler Tweeted. Ka-Boom! An Upgrade!
Generally speaking, the idea is crap.
In essence they are spending resources trying to make the most unsatisfied segment of their market happy, and rewarding people for trashing their brands with free upgrades & other perks. And so it teaches more people to complain & to find arbitrary things to complain about. Hence the friendly article offering the tip on how to get free room upgrades, with tips like: "Have a lot of online friends or followers. Hotels will pay more attention to your requests."
Hey Ritz-Carlton & Shangri La … we have 10,000's of readers and you suck! Please save my complimentary upgrades for the next time I am in town.
Does anybody think those leading brands got to where they are by tracking complaints on Twitter? The customers who have complaints actually worth listening to will probably give it to you directly rather than Tweeting it.
The people who are unhappy are often the type of people who shop by price and have 0 brand loyalty. And no matter what you do it is never enough. About two days after opening up our membership site (nearly 2 years ago) I got a phone call while on the road by someone who couldn't figure out how to log in. I pointed out where it was. That wasn't good enough. I spent about 6 hours digging through the PHP to try to make the login even more intuitive for them. The next day they asked for a refund because I didn't provide 24/7 phone support. The login wasn't the problem. It was just a handy excuse. The problem was that they were cheap and nothing was going to be good enough for them. And just to put a bit more salt in the wounds, about a week later someone else complained about how the login was changed. FAIL!
Since then we have increased our price 200% (as we have added more tools, more staff, and the value of my time keeps going up every day) and we still have many people who are happy as longterm customers at a higher price point. In fact when some people accidentally cancel their account I can get 3 to 5 emails in an 8 hour period when I sleep because they miss the site that much.
But there is the opposite end of the spectrum as well: potential "customers" who demand a free trial, beg for aggressive discounts, or have 50 "one more question" questions before joining. They probably are not sold enough on the solution to be worth the effort of selling to. No matter what you offer them its probably not going to be enough. Their lack of internal value is reflected into their perception of the works of others, and if they buy from you without being sold on you they will probably ask for a refund, or find a way to be abusive to make you want to can them.
In our support suite many non-paying non-customers mark their messages as critical. Whereas the people who are paying customers use a less extreme level, like normal. The levels that people can select are almost a filtering mechanism. Have you spent with us & you mark your issue as critical & you use caps lock & rude slurs? Shift-delete.
I didn't intentionally plan it, but our old programmer even built another filter into our business model. The people who join and then cancel right away get locked out right away. We then send them refunds, but this level of filtering filters out a major type of potentially abusive customer. The type who generally won't read or research but will ask 5 different questions 8 different ways each every single day until they have annoyed your members so much that you are forced to boot them to lessen the noise. The person who makes over 100 posts in their first 2 days isn't taking any time to read or listen or implement, so they would just harm your community without getting any value out of it.
This leads to my theory of filtering: if a person needs lots of support becoming a customer (or before they become a customer) then they probably are not going to become a good customer. And if you take them on as a customer (or spend any money pushing in that direction) you will probably lose money.
The person who sends me an enraged email about "why should I install Firefox" just wasted 5 seconds of my life & will never spend a penny with me. And that is fine.
Many of the best companies aim to be polarizing. They pick their spots and define what they do, and work hard to make that market segment happy. That is how Steve Jobs views flash, and it is how Marc Andreessen likes to invest.
Find out what people smarter than you are doing and find a way to incorporate those themes into your business strategy. The smaller you are the more polarizing you can be, because you don't have to create something that feeds thousands of employees to be profitable.
You could spend every day trying to make any unhappy person happy with your offering.
… OR …
What if you took those same resources that were spent trying to appease the angry and spent them on making those who are happy that much happier? Does the free upgrade go further when it is given to an enraged steroid addicted customer, or does it go further when given to someone who has stayed with your hotel multiple times in the past? Where are they on this circle?
The concept to think about here is that if someone is already fairly loyal it doesn't take much more marketing or attention to make them *super* loyal. And then they spread the word.
There is a concept of fairness which is preached in school, but you should overweight your business toward your best customers.
The person who has been a paying subscriber for years is worth thousands to tens of thousands of Dollars to our future business interests.
And for clarity purposes, I agree with Chris that their can be great value in being a guide & helping people out. But angry high-maintenance people are rarely where sustainable profit margins come from (unless, of course, you are a divorce lawyer OR a PR firm who gets paid to give hotels bad advice).
From the above WSJ article's comment section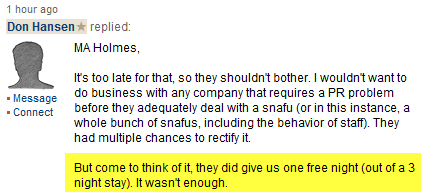 It wasn't enough. It never is.
SEO Book.com – Learn. Rank. Dominate.
Do Something…Now!
In a land of opportunity there is typically lots of distraction, oddly enough those distractions are usually other opportunities. How many times have you:
Stared at a domain you wanted to buy, but didn't pull the trigger
Stared at a domain you bought, but left it parked for another year
Negotiated down to what you wanted to pay for a site or domain, yet didn't move forward due to (fill in the blank)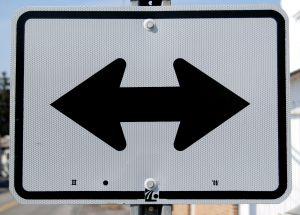 Typical reasons surrounding procrastination tend to be "not enough time" or "this will never work". Well, how many of your "can't miss" ideas missed and how many of your "probably will miss" ideas actually hit?
Win More, Lose Less
In my experience as long as you win more than you lose you're doing ok. This sounds a bit easier than it is though. In many professions, take sports for an example, success (worth millions in contracts) can be had for "succeeding" less than 50% of the time. A couple of examples:
Hitters in baseball strive to get a .300 average, which is failing 7 times out of 10
Basketball players are considered great shooters if they are successful making 45%-48% of their shots
Imagine if you succeeded at those clips? If so, you better hope ones that you hit on were big money makers and the ones you lost on required minimal investment amounts. If you take a similar approach to finding and operating in new markets most of the initial costs are fairly similar. Basic costs like:
Design
Content
Site Promotion
PPC Testing
tend to be somewhat similar on your average new site, perhaps if you are purchasing a domain or site it can skew the numbers a bit but overall these things tend to average out. So at the very least if you are succeeding 6 out of 10 times and you don't get carried away on a new site launch you should be doing pretty well. They more you do the better your ratio gets, the better your long term profits are, and you should expect to raise that ratio a bit as you start to gain more and more experience in researching + launching new ventures.
Dueling Fears
Most of us have a fear of failure and some of us have a fear of success. A fear that if we become successful it might alienate some of our closest friends and family members, it might turn us into workaholics working day and night to sustain that success and lifestyle, and so on. Fear of failure is something I think even the most successful entrepreneur's face from time to time.
Of course, we all know the old basketball saying: "You miss 100% of the shots you don't take".
Fear of failing and succeeding is something one has to overcome on their own but it terms of trying to overcome procrastination it is usually advisable to set less rigid and more reasonable deadlines for yourself and your work as outlined in this post over at harvard.edu http://www.iq.harvard.edu/blog/sss/archives/2006/10/procrastination.shtml (which references a study co-authored by Dan Ariely, who wrote the must read "Predictably Irrational").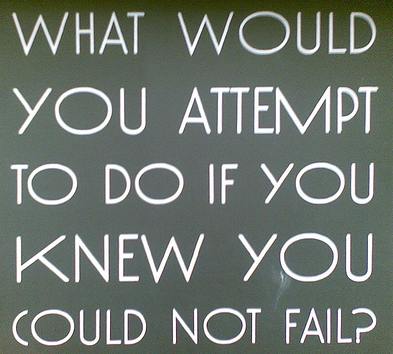 Psychology Today has a research piece on the fear of failure here .
The Cost of No Action
It's kind of difficult to lay out pretty graphs and charts showing what the "cost of procrastination" really is. We can assign some arbitrary number to whatever benchmark profit exists per site in an imaginary portfolio. However, I think it's best if you play with your own numbers a bit and figure you what the cost of doing nothing is to you.
Factor in the hours you might be doing things like checking your email every 5 minutes, cluttering up Facebook with Farmville posts and annoying your friends with suggestions, wondering if this latest SEO tool suite will be the answer to your prayers, and last but not least wondering if your idea will work. There are more variables of course, but I just outlined some of things that might be commonplace.
Dealing with Competitors
The bottom line is that the web gets more and more competitive everyday and if you are just sitting on the sidelines waiting and waiting and waiting then your competition is going to sprint by you on their way to the end zone, over and over again.
Even if you don't have any fears of failure or success, or maybe you are extremely self-confident in your abilities, you should consider getting a bit more into the game if you want to make any significant headway in your efforts for world domination. You want to try and avoid doing a bunch of things "average". Try and nail down an effective process which you can replicate somewhat, site to site.
It's Up to You
Project management is an essential skill you'll need if you want to run multiple sites, create multiple products, or if you are running a web business with any scale. I like to work in different markets so I can a sense of what others are doing to be successful, more consumer data to evaluate, the ability to establish connections with people I otherwise would have never been able to establish a business relationship with, and so on. Keeping track of the different things I'm doing can be a chore. Enter…..the cloud.
With so many moving parts to a site these days (SEO, PPC, social media, monetization, domain buying, market research) you'll find yourself with quite a list of to-do's and contacts piling up all over the place. One thing that has helped me tremendously is being able to put most of my business in the cloud with services like:
Being pretty much 100% mobile really has its advantages. I like a change of scenery every once and awhile so having all my stuff readily accessible at a moment's notice is fantastic.
So take advantage of the opportunities out there, don't over-extend yourself, and establish flexible (yet reasonable) due dates and goals for you and your business. In the end, I think you'll thank yourself for it.